He heads up Kent Scientific Services (KSS) - Kent County Council's in-house scientific testing laboratory - and said he and his team have had a 'relentlessly positive experience' with those apprentices who have served to enhance their working practices after actively pursuing the next generation of public sector scientists and analysts via this route for the past few years.
Speaking in National Apprenticeship Week 2023, he enthused: "First of all you get that kind of new wide-eyed wonder when they come and join us and because of their studies, they truly ask the best questions. They keep the more experienced guys on their toes in a good way as a result and we have actually made lots of changes and improvements off the back of those kinds of inquiries in terms of triggering us to explore if there is a better way of doing things."
"When apprentices graduate, they are not the same as a new graduate. They have had that five years in a laboratory, which is just immense in terms of the difference - they are an experienced scientist."
All KSS' apprentices are at degree level with the University of Greenwich, largely in chemistry but also pharmaceutical science. Some arrived with more of a career CV, enriched by further apprenticeship scheme study combining the practical with the academic, while some are straight out of sixth form.
Kirsty Thompson and Beth Rushton joined their respective KSS departments after their school A levels, spurning the pressure to go to university, and have never looked back.
Kirsty is with the KSS food team, carrying out analysis to ensure UK and imported food and animal feed products are safe and what they claim to be.
She said: "We test a range of foods. We test allergen-free products for example as to whether they have the allergen. We also test cosmetics to see is there anything in there that shouldn't be or at unsafe levels. We are testing to see that what it says on the back of the packaging is correct."
Kirsty did a two-year Higher National Certificate and is now in her final stages of her three-year degree. She added: "It is a really strong choice. You have to put in that little bit more effort but it is worth it.
"You have to think how much you are going to gain from it rather than just a straight degree. People are getting a degree and can't find a job because they haven't got the experience and haven't had the opportunity to get that experience. I get the best of both worlds – a good degree and five years of experience; I know how the instruments work, we can talk to suppliers, I have had to problem solve. I also haven't got all of the debt. It is so much better.
"Public sector was not on my radar initially, but it is something I would look to stay in."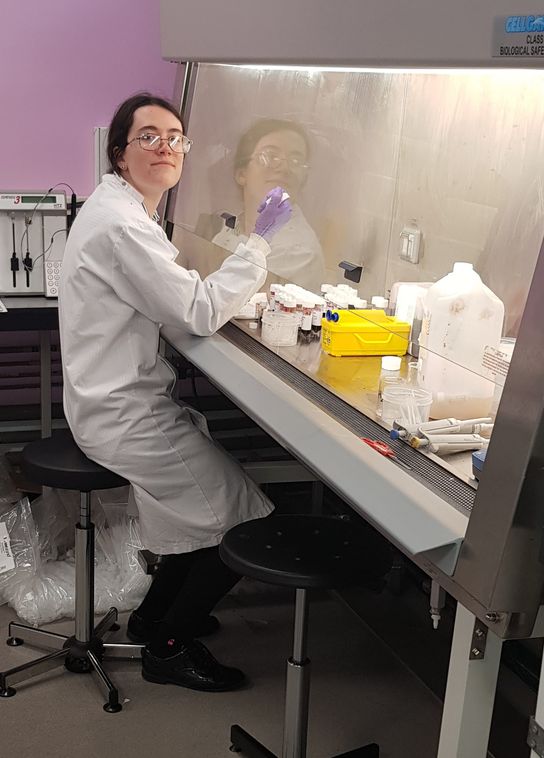 Beth is with the toxicology team, supporting the coroner to reach a conclusion about a cause of death. She agrees with her colleague:
"There are loads of jobs out there that I never would have thought of doing but I always knew I wanted to go into science, that was my goal. In my lab, we get sent blood, urine, stomach and liver samples in order to detect and quantify alcohol and drug concentrations present.
"It ticks all the boxes for me. I like the interactions within the workplace, earning money that I work hard for and the support from Mark, my line manager and colleagues means I am very happy staying where I am for the foreseeable future."
At 25, Beth now has nearly seven years of experience and savings in the bank. She has university graduate friends who are struggling to find meaningful employment.
She added: "University suits some people like college does. Apprenticeships are another route and people should make sure they are aware of all of their options and see what is best for them.
"I really enjoy learning on the job and learning for my degree and I've got job security. I am also finding some of my study easier because of my work. I do pharmaceutical science, which is all about drug making and how they work. I am aware of the names of the drugs through my workplace so I'm thinking 'that's an epilepsy drug'. It assists my revision.
"My final project will see me develop a method which we can use to help our work and that will be really good for me in future prospects. I have been given so many opportunities thanks to this scheme."
Beth also met her now fiancé, a fellow science apprentice with the NHS, during their studies.
"If we have children, there will be no talk of universities – apprenticeships all the way!"
Kirsty and Beth are both set to graduate in 2023.
Mark added: "When apprentices graduate, they are not the same as a new graduate. They have had that five years in a laboratory, which is just immense in terms of the difference - they are an experienced scientist."