Here in Kent there are 18.
His Majesty's Lord-Lieutenant of Kent, The Lady Colgrain, extended her congratulations and said: "I could not be more proud of our 18 Coronation Champions, chosen from nearly 5,000 entries across the United Kingdom. This is a quite exceptional achievement, and I am thrilled that their outstanding voluntary service has been recognised in this way."
"I have been truly inspired and humbled to read their stories and I hope that they will all feel a sense of pride in what they have achieved."
"They have all shown a clear passion and commitment in helping to make a difference in their own communities and I have no doubt they will inspire others to consider the importance of volunteering and the benefits it can have for all concerned.
"I have been truly inspired and humbled to read their stories and I hope that they will all feel a sense of pride in what they have achieved. As we head towards the annual Volunteers' Week in June, now is the time to keep up the momentum and not only take the time to thank our amazing volunteers for their selfless commitment but encourage others to take that small step into the world of volunteering to enjoy the benefits it can bring."
Here we speak to three of the 18 Coronation Champions: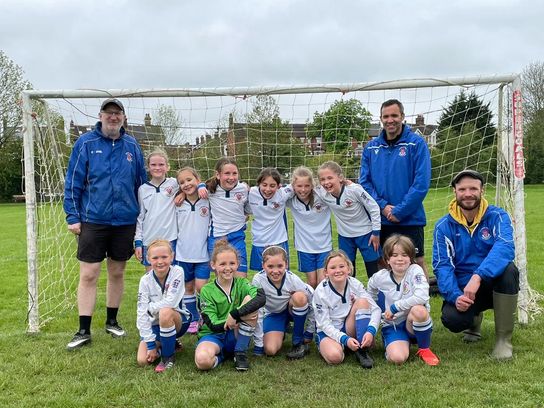 You may be aware of the Lionesses, but what about the Pumas, the Jaguars, and the Tigresses?
It is only a matter of time.
They are all girls' football teams in Tonbridge, 12 in total that feature week in and out in Sunday league games.
And they are a reality thanks to Aaron Hill, who has been recognised for his inspiring passion and dedication with a Coronation Champions Award.
There was only one girl playing in a boys' team in 2017 but a few inquiries and expressions of interest noted down - and so Tonbridge Junior Girls FC was born with the hashtag #weonlydopositive.
Four players joined, soon after it was 10 including Aaron's daughter, Emily.
Now there are 170 girls on the books, aged from six to 16, taking part in weekly training sessions, playing and winning silverware with interest from professional teams. The club's team of coaches and volunteers is also growing, which is enriching for everyone involved.
Aaron, who has been coaching youth football for 16 years, said: "I thought 'we're doing something wrong here', girls need their own team so let's set this up and see what happens. We grew purposely from the bottom up with the younger age groups and the longer-term vision is to create a pathway for the 16-year-old players with the development of a women's team.
"I think the girls prefer training more than the boys. They have excitement and joy at being able to play the game they love and get engrossed in it. I just wanted them to have the opportunity to try it. When some of the best players started, they could hardly kick a ball. To see them grow, that's very rewarding."
Aaron and his wife Nicola attended the Coronation Concert at Windsor together with the 499 other award winners from across the UK.
He added: "It was great to listen to the stories of other volunteers. We enjoy helping out and being part of the community."
If you are looking for an Ostomate*, Deborah Ward-Johnstone could be one of the very best.
Eventually diagnosed with bowel cancer at 29 (her doctor initially ruled it out because she was too young), she said the greatest therapy when it came to dealing with all that was being thrown at her was to talk.
In so doing, the 46-year-old from Ashford has helped many other fellow patients to confront the questions they perhaps were too afraid to ask, getting them back onto aeroplanes, into the swimming pool and enjoying intimate relationships they once believed ended with the words 'you will need a stoma'.
This is an opening on the abdomen that can be connected to either the digestive or urinary systems to allow urine or faeces to be diverted out of the body into a pouch which sits over the top of it. Deborah's bag is more often than not bejewelled as a conversation starter. It also leaked last time she was in a hotel room.
"I told that story on social media," she said. "The manager was so lovely about it, he made me cry. This sort of thing does happen sometimes, but it is okay. It is not our fault.
"I discuss what happens to me so publicly to help people living with a stoma. I share what I have in my kit bag and what products I have found useful to give other patients the confidence to continue living their life. Plus, I like to natter and it has really helped me."
Deborah uses social media to demystify life post-op, raise awareness of the bowel cancer symptoms and collect donations towards vital research into the disease. She runs, climbs, hikes and has been all over the world across deserts and up mountains to complete physical challenges as well as literally walking over hot coals in return for money for her favourite charities: Bowel Cancer UK and Colostomy UK.
Having undergone extensive surgery and chemotherapy, she was sideswiped when the cancer returned. But this has merely strengthened her resolve.
Her voluntary work has led to more than one person having a colonoscopy where they have then had polyps removed. They will now be regularly tested, lowering the risk of a tumour developing unnoticed.
Her consultant will never forget her after she took him some chocolates in the shape of bottoms and her 'Up Your Bum' fundraising cabaret night went down a storm. As a campaigner she wants to stay memorable when she reaches out to GPs to ensure symptoms are not dismissed on age alone, as well as lobbying about lowering the screening age.
Deborah and her husband Aaron were at the concert at Windsor, which she said was wonderful. The only downside was she missed Kermit and Miss Piggy when she went to the loo!
"There was lots of fun before it went live, and it was so humbling to be surrounded by people with amazing stories. We were near the royal box and could see them dancing to Take That. The drones were amazing."
*Someone who has had stoma surgery
You can follow Deborah at: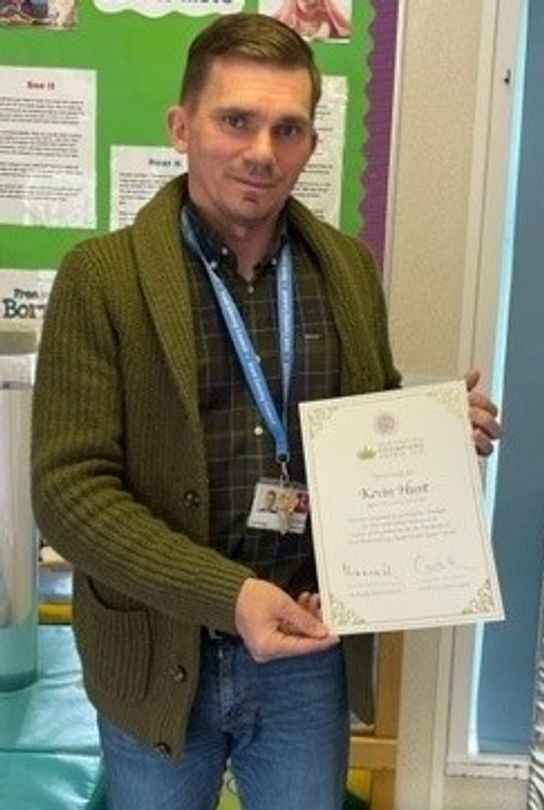 There are not many who can say they have seen a King and Queen shaking their hips to Lionel Richie, but that is just one story stored away for the future grandkids for Kevin Hunt, one of Kent's Coronation Champions.
He is a colleague at KCC, an Early Help Support Worker in Sevenoaks and Swanley, and wears many hats as a volunteer including football and cricket training and mentoring duties. But get him talking and it is his involvement in the youth justice community panel that has left the greatest impression on him.
When a child pleads guilty to committing an offence, a referral order panel meeting takes place. Two trained community panel members facilitate this and it is where Kevin deploys his skills.
The 42-year-old from Gravesend said: "It is both fascinating and a privilege to be involved in this work.
"I certainly do not judge a book by its cover. We read the reports beforehand and get to know this young person and you adapt your approach accordingly.
"Some of them just needed some understanding and to be shown the way and put in touch with agencies, programmes and support groups to give them the help that they need.
"Some of the young people we encounter have had to deal with traumatic life experiences and it's hard to imagine what they have been through, but working together can lead to a rewarding outcome for everyone involved. There really is a fantastic team here that form the Youth Justice team.
"It is fantastic. Helping them to take the positive steps forward by integrating back into the community can provide a real sense of achievement."
Kevin's partner Laura nominated him for the prize, seeing him often on the phone or disappearing out of the door in the pursuit of his volunteering activities. His work mates too are very proud of him, bowing when they have seen him now he has rubbed shoulders with royalty!
He added: "It is extremely rewarding helping people and seeing the difference it can make. Everything I do is for children as everyone deserves to have the best childhood."
Kevin received a certificate signed by Their Majesties and special pin badge, attended the hip-shaking concert in Windsor and the Lord-Lieutenant of Kent has also invited all 18 Kent Coronation Champions to a garden party at her home to congratulate them personally on all their volunteering achievements.