This year's Fostering Network campaign, which runs from 15th-28th May, is highlighting the importance of children being fostered by a family in their local community.
KCC's Fostering Service works hard to ensure the vulnerable young people that come into its care find homes close to their friends, school and family.
But amid a UK-wide shortage of foster carers, Kent Fostering is desperately seeking more households to join its fostering community across the county – and we want to hear from all communities, regardless of ethnicity, gender, sexual orientation, disability, age or marital status.
You don't need specific qualifications to become a foster carer but you do need a drive and passion to want the best outcomes for children and you will get full training and support.
You also need to be a full-time resident in the UK, or have leave to remain, have a spare room and be able to give the time to care for a child or young person.
"Fostering can be challenging but also immensely rewarding, with excellent support from the highly experienced Kent Fostering every step of the way"
Sue Chandler, Kent County Council Cabinet Member for Integrated Children's Services, said: "This Foster Care Fortnight we want to thank every one of our amazing foster carers who, on a daily basis, change young lives for the better.
"But sadly the number of children coming into KCC's care has increased and we need Kent residents to come forward to make a difference to local young people who have often had a difficult start in life.
"Fostering can be challenging but also immensely rewarding, with excellent support from the highly experienced Kent Fostering every step of the way – plus financial benefits, local training, career progression and holiday entitlement."
Kent Fostering is the most experienced fostering agency in Kent having looked after children for over 40 years. The service was also recently rated 'outstanding' by Ofsted.
If you are considering a return to fostering, or a new career with high levels of job satisfaction, and would like to hear more about joining the Kent Fostering community, please give our friendly team a call on 03000 420 002, or visit us at www.kentfostering.co.uk
You can also come along to one of our online information events. Visit here for more details Kent Fostering and Supported Homes Events | Eventbrite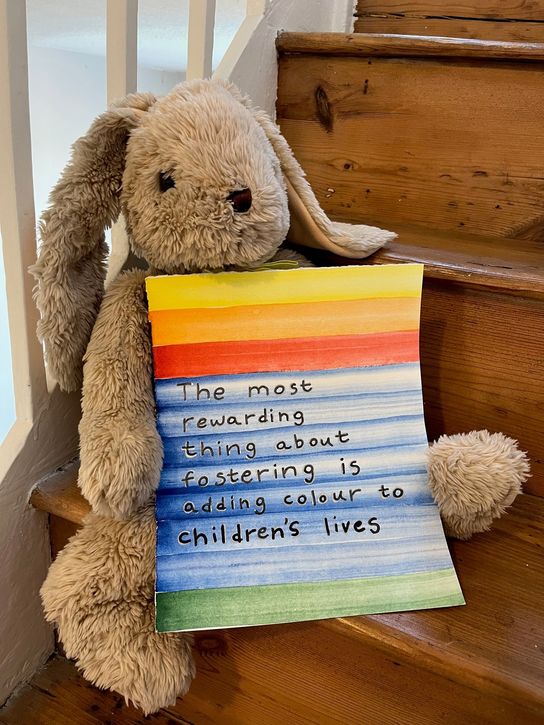 Lisa Pitcher, from Sevenoaks, has been a foster carer, along with her husband Andrew and two daughters, with Kent Fostering for 16 years.
Lisa said: "No other 'job' will give you the opportunities and satisfaction that becoming a foster carer does. We soon understood that although we could not change these children's pasts we could support them, nurture them, and encourage them to have a bright and brilliant future!"
Darrel Linehan-Dumont, also from Sevenoaks, has been a foster carer together with husband David, for just under 2 years.
Darrel explained: "I must be honest, we were a little bit nervous as we did not know what to expect… and we shouldn't have been. We were very quickly reassured of the support that we would be offered.
"We went to panel in June 2021 and were approved for 0-12-year-old children, which was very exciting but terrifying at the same time. We have had three children over the time we have been fostering and our last match was with two little boys who made such a massive impact on our family.
"All this sounds lovely and rosy but it can be very tough at times. With this in mind, and in addition to the fantastic training you receive as a foster carer, it's also really important and very advisable to take advantage of the additional support that KCC offer. It helped our journey so much."
Vicky Page, alongside husband John, from Folkestone, has been fostering since June 2020.
Vicky said: "We chose Kent County Council to foster as we had done a lot of research and believed that this council was the most supportive of their carers. This has turned out to be so true and Kent live up to that standard.
"As foster carers we have always felt supported via our fostering social worker and reassured that they will be on hand to answer any questions that we have via the phone, or will respond to our emails as soon as they can."
Find out more about Foster Care Fortnight on social media by following these hashtags: #FCF23 #FosterCareFortnight #FosteringCommunities #KentFostering
Read about care leaver Robert Barton's experience of living with a foster family from a young age here: news.kent.gov.uk/articles/urgent-call-for-foster-carers