Planting started in December at St John's Church of England Primary School, Canterbury and Greenfields Community Primary School, Maidstone, with 1,900 whips planted between them.
Funding for the native saplings was provided through a £98,500 grant from the Local Authority Treescape Fund with an additional contribution from Golding Homes. The species mix included Beech, Oak, Wild Cherry, Hornbeam, and Field Maple. The tree planting events were organised by Kent's Countryside Management Partnerships ensuring they establish and continue to thrive well into the future.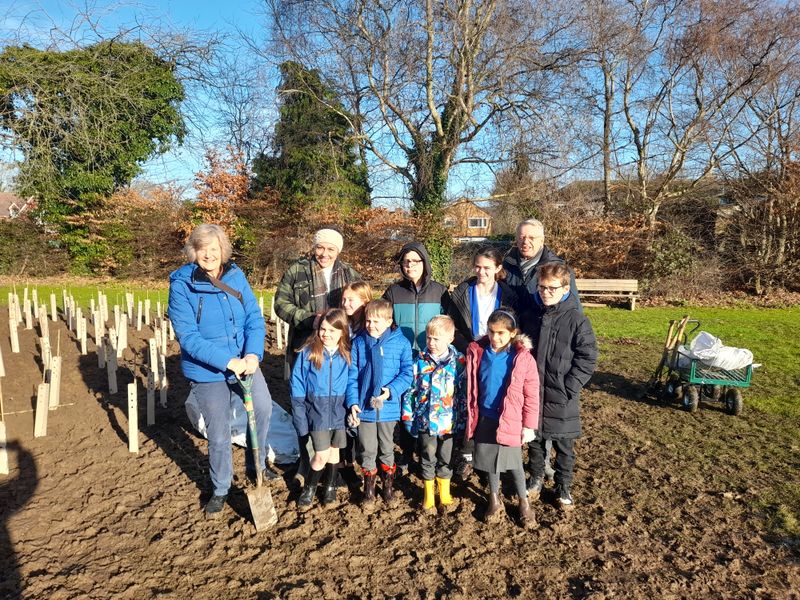 Additionally, volunteers from organisations including Golding Homes, Canterbury City Council, Friends of Kingsmead Field, and Rotary Club of Canterbury Sunrise helped with planting.
Further planting sessions at other schools around the county have been ongoing throughout January and will continue until the end of February, seeing 9,000 native broadleaf trees planted.
"I want to thank the school children and volunteers who have taken part in this project."
KCC's Cabinet Member for Environment, Susan Carey, said: "I want to thank the school children and volunteers who have taken part in this project.
"As well as demonstrating a fantastic appetite to help enhance the environment around them, the children have had practical experience in what it feels like to establish trees that will improve the air we breathe for decades to come.
"Kent has ambitious tree establishment plans for its local communities and over the next few years we need volunteers to help us with this planting, so I would ask anyone interested in getting involved to get in touch."
Executive Director of Development & Strategic Asset Management at Golding Homes, Tom Casey, said: "We're really proud of this partnership working with Kent County Council. My colleagues and I were very happy to help with the tree planting at Greenfields primary school, at the heart of one of our communities in Shepway.
"In our sustainability strategy, we've committed to improving biodiversity and green spaces in our communities, and this initiative helps to do just that. Once complete, the planting will become a forest of 1,200 trees, encouraging young people to connect with nature and the environment."
If you are an organisation that wants to positively contribute to the environment and help projects in the local area, email KES@kent.gov.uk. Volunteers are specifically required to water the saplings once they're established.
ENDS
Note to editors
KCC has an ambition for the county's tree cover to be extended by 1.5 million trees, establishing one new tree for every resident living in the county. By 2050, Kent will have an average tree canopy cover of 19%, the target recommended by the Committee on Climate Change. The delivery of these new trees, alongside the protection and restoration of existing trees, hedgerows and woodland, will support the recovery of wildlife, provide natural climate solutions and enrich peoples' lives. This will be delivered by working in partnership with, but not limited to, district and borough and town and parish councils, the Kent Downs and High Weald Area of Outstanding Natural Beauty Units, the county's Countryside Management Partnerships, Woodland Trust, Forestry Commission, and environmental charities. KCC will look to bring together local communities, schools, businesses, and landowners to collaborate on tree establishment projects.