Over the past three years, the building has undergone a major renovation and been adapted to provide head office accommodation for the county's Registration Service, Coroners' courts, Adult Education and Adoption services.
The project is now complete and, to mark this milestone, a celebration event was held with Deputy Lieutenant Geraldine Allinson cutting the ribbon at the main entrance to the building, which is just off Tonbridge Road.
Mrs Allinson was welcomed at the venue by KCC Vice-Chairman Bryan Sweetland, who gave guests a brief history of the building.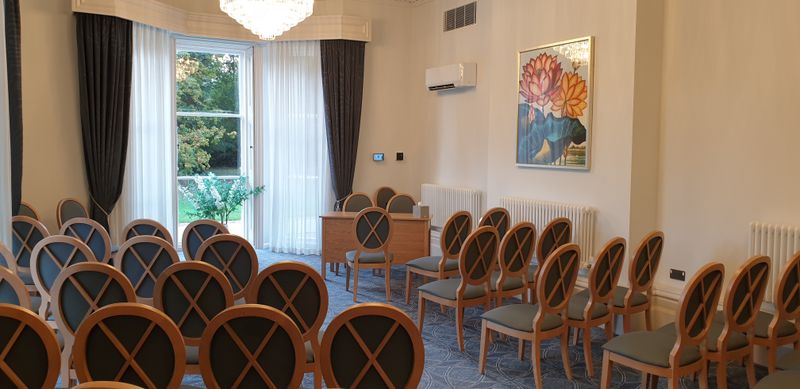 KCC Deputy Leader Peter Oakford, whose role includes responsibility for the council's finances and property, said the project had solved the problem of making best use of the building, enabling the council to centralise the four services.
This made it possible to vacate their previous premises in Maidstone, including Archbishop's Palace and the former Adult Education centre in St Faith's Street. It also meant that, from later this month, all the county's inquests would be held at Oakwood House rather than County Hall.
"KCC has owned Oakwood House for many years.  It has previously been a training facility, a hotel and conference centre and a reception centre for Unaccompanied Asylum Seeking Children."
He told guests: "Oakwood House dates back to 1869 and is a grand Victorian mansion full of character and history that looks stunning inside and out.
"KCC has owned Oakwood House for many years. It has previously been a training facility, a hotel and conference centre and a reception centre for Unaccompanied Asylum Seeking Children.
"Before Covid, KCC was looking at alternative uses for Oakwood as it had not met its income targets as a hotel/training centre for many years. With Adult Education housed in a building that was not fit for purpose, Registrations Services being based in leased premises at Archbishops Palace and a requirement for suitable accommodation for the Coroners Service, their consolidation, together with the Adoption Service, into one location provided better value at a reduced cost.
"The change of use from a hotel was granted in July 2020 but due to COVID construction did not actually begin until July 2021. Work was fully completed in July 2023 with some services moving in before this with some areas being finished sooner than others."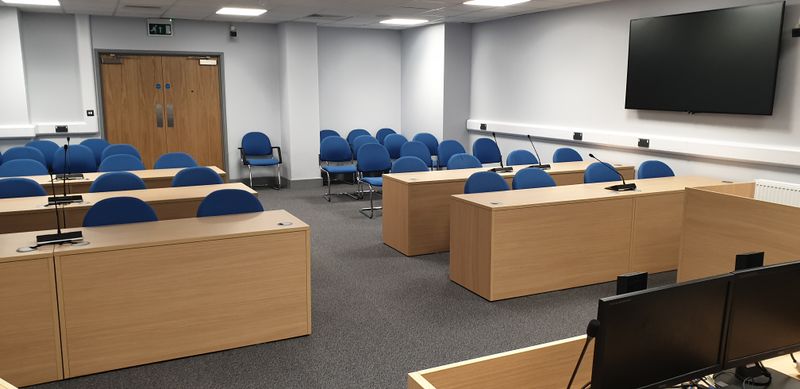 Mr Oakford paid tribute to the many people involved in the project: contractors GTCI who carried out the renovation; Fusion the project managers, Martin Arnold, Clerk of Works, Woodley Coles Quantity Surveyors and Consult Construct Architects. He also thanked KCC's Infrastructure team who oversaw the project and the managers and staff of the Registration Service, Adult Education and Coroners Service now located at Oakwood House, for the way they worked together to develop the layout and interface across the new facilities and organise staff transfers.
Mrs Allinson said she was looking forward to conducting citizenship ceremonies in "these magnificent premises".
She and other guests took a guided tour of the facilities beginning with the Registrations service. In addition to the office where prospective wedding couples attend to make their arrangements, she also saw three newly-decorated, contemporary ceremony rooms -The Kentish Suite, which caters for up to 80 people, The Garden Room, a medium sized ceremony room with a terrace for up to 40 people, and The Study, an intimate panelled ceremony room for up to 15 people.
Set among mature gardens and tall trees, Oakwood House provides couples with a stunning backdrop for their wedding photographs. The venue is wheelchair accessible with free parking for wedding parties.
Guests then toured the Adult Education facilities, including the jewellery and pottery rooms, and saw in action an art class and a lesson for students of English for Speakers of Other Languages.
They were told that bookings for classes at Oakwood House had increased by 20 per cent over those for the former premises in the town centre, largely due to the excellent modern facilities and the free parking provision.
From there, the guests moved on to the Coroners' area. Administration staff are already based there and inquests will begin from later this month in four courts, all equipped with the latest audio-visual equipment, enabling witnesses to participate via remote video access when necessary.