"The fact someone has walked in the door … they are a winner. Should they choose to pick up a pen and start taking part in our activities, well they are also a winner," says Wendy Daws, as she explains the background to the Kent Association for the Blind (KAB) Book of Hope.
It's one of 11 art works by local artists and community groups, co-produced with people who have experience of poor mental health, that make up the Hope Exhibition.
Currently on regional tour, after over a year in the making, the collection of installations, paintings, ceramics, creative writing, and textiles, representing hope to raise awareness of suicide prevention, enjoyed an inspiring official launch at Margate's Turner Contemporary in mid-July.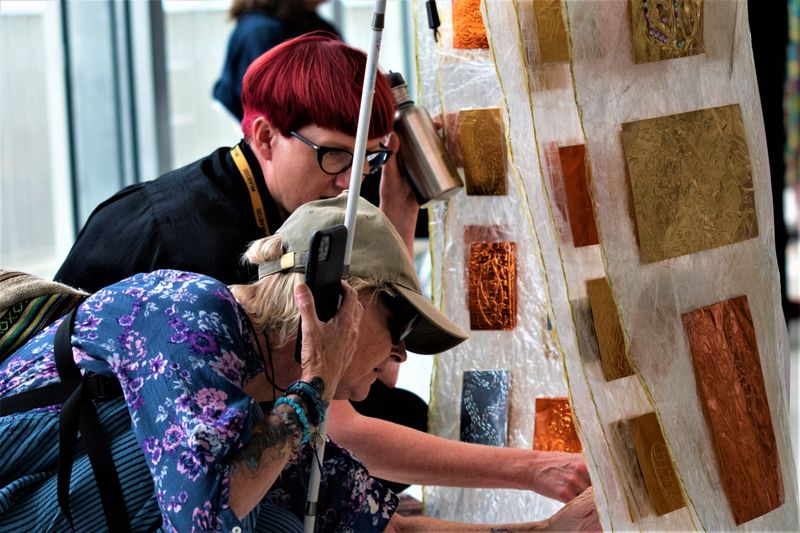 The journey
On a bright afternoon in a packed Foyle Rooms overlooking the town's Bay, the Book's amber and silver tactile pictograms catch the sunlight and shimmer. It's an interactive piece that people with, and without, sight can read and find their own story.
"It's not so much about the work itself; it's about the journey; about spending time with people that you are comfortable with and that ripples out into your wider life. You leave the studio with a sense of happiness, you've tried a new skill perhaps, and you are going for coffee with someone you didn't know two weeks ago," says Wendy, a Mess Room collective artist that volunteers with KAB.
The importance of the journey of the art-making for people who have experience of poor mental health is echoed by everyone in the gallery.
Talking about Broadstairs Town Shed's exhibit, a collection of beautifully crafted wooden bowls called Bowls of Hope, the charity's coordinator Helen Robertson says: "Woodworking really is brilliant for mental wellbeing. When you are on the lathe you are completely engrossed, absorbed in that moment."
Organised by the Kent and Medway Suicide Prevention Team, and funded by the Kent and Medway Hope Community Arts Fund, grants totalling £21,000 were divided among the successful applicants to help bring the vision of hope to life. The fund is backed by Kent County Council (KCC), Medway Council and NHS Kent and Medway.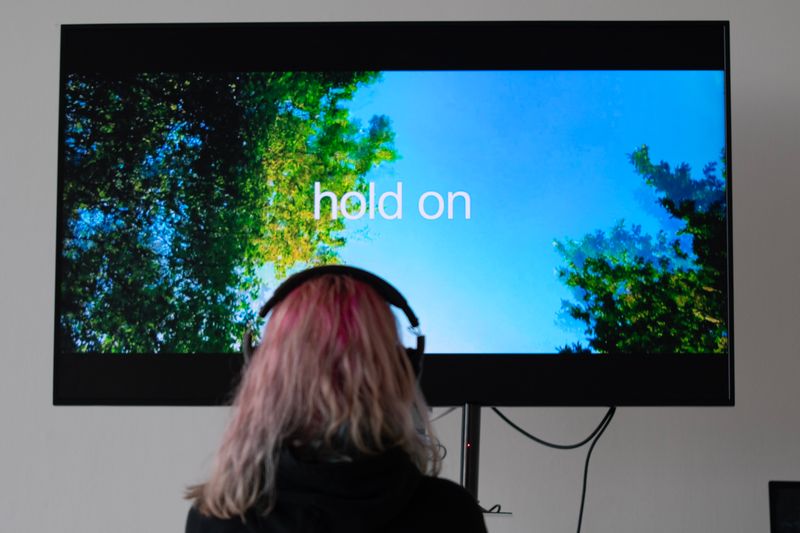 Symbols of hope
Kicking off a series of heartfelt speeches at the launch, KCC's Director of Public Health, Dr Anjan Ghosh, says: "One suicide is one suicide too many. The most powerful antidote to despair is hope and this is what this wonderful exhibition is about; and the message from it is really loud and clear: For those who are feeling despair – you are not alone."
Also symbolising hope at the Turner is the Baton of Hope. Making its first outing since it was carried from Glasgow to Westminster in the UK's biggest suicide prevention awareness-raising campaign to date, its exquisite design and powerful message draws people to it and many pose with the baton for a picture.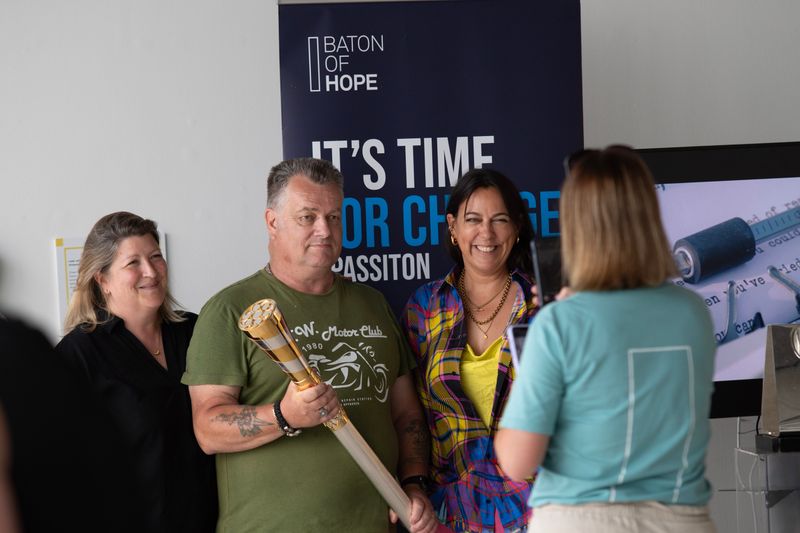 "The baton is the first physical symbol of hope that we think has ever been created," says Andrea Sparke, a member of the Baton of Hope Organising Committee. "We celebrate achievements with trophies but have nothing to symbolise hope to people when they are in a dark place. Suicide is a very isolating topic but the baton campaign has brought people together."
The commitment to raising awareness of the support available in Kent and Medway to anyone living with suicidal thoughts, urges to self-harm, or the loss of a loved one who has taken their own life is strong.
And all around there are stories of making a difference.
Unique and proud
Artist Mona Whitton, the guiding hand behind the Out of the Fire exhibit, 300 uniquely decorated, handmade bowls, displayed to together to form one connected piece, explains: "Mental health issues are really important to me. I used to work as a teacher in a mental health facility so I thought it was really amazing that something was being done to raise awareness and wanted to get involved."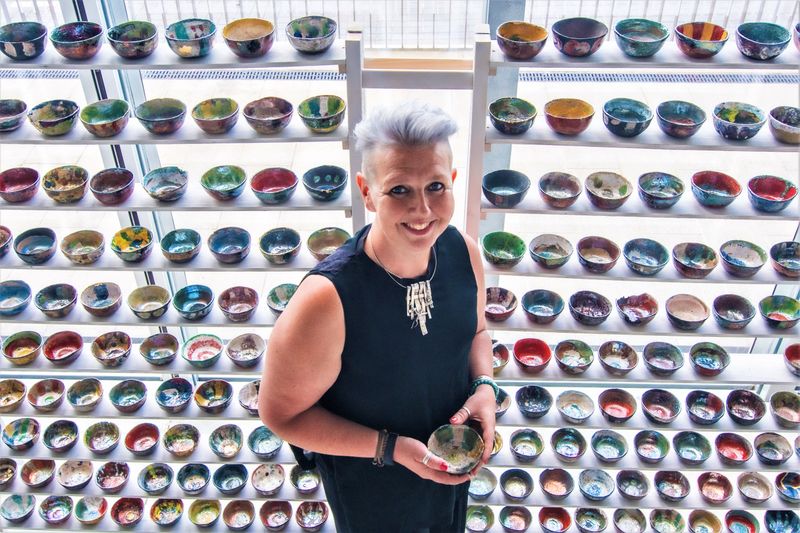 Keen to target her project at men "because of their high suicide rate", Mona chose the technique of Raku to produce the pots that were then individually decorated in workshops. In Raku, pottery is removed from the kiln when red hot and then cooled rapidly, often in combustible material like sawdust or paper. Each pot, says Mona, represents a person, unique and proud to highlight their "breakages" as part of their story, which adds to their beauty.
"It was really important that I thought of the kind of art form that would bring men together," she recalls. "And all I could think of was BBQs and I thought 'fire; fire brings people together' - and they were fascinated by the process. It was lovely to see strangers comparing bowls. Every bowl came out different. We are all different and that is ok. Some of the bowls broke, and that's ok. We have to try and find the beauty in what we have got, not what we think we should have."
The launch event is also full of remembering.
"What was remarkable about the day the funding was announced (for the Hope projects)," says the Shed's Helen, "is we were trying to think of what we could do and that afternoon Pam turned up with a brand new lathe. It was her husband Tom's lathe and she told us about Tom's life and we thought right, we have to do this." Tom, a skilled woodworker, sadly took his life in October 2022.
"The turners involved in the Hope project are members who the Shed has helped turn their lives around. It's been a great project to build understanding."
Positive vibes
For Nim Thorp, a gifted participant in both the Hannah Whittaker-led Draw Hope and the Book of Hope, the exhibition has been a chance to share artistic talent and meet new people.
Draw Hope is a collaborative project that invited individuals with lived experience to craft unique trees that symbolise their individual life journey, along with their aspirations.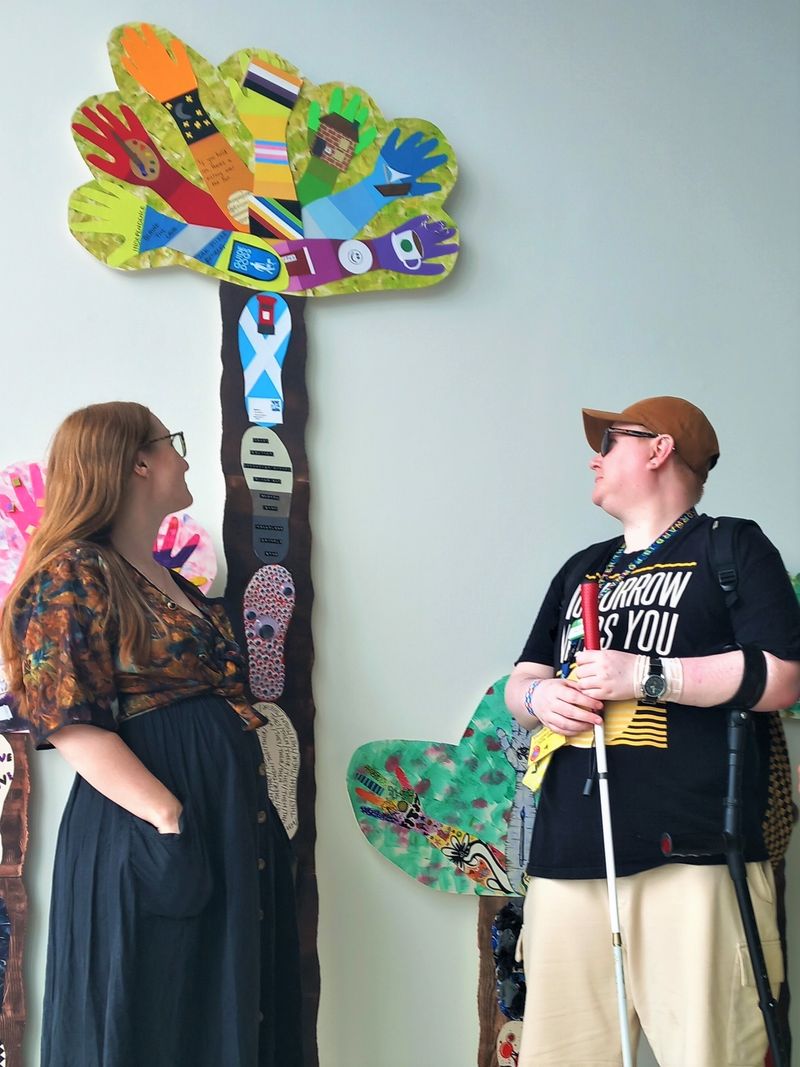 Nim's tree stands tall and colourful against the white wall of the gallery. The vibrant tones give off positive vibes.
It's the perfect backdrop as Dr Ghosh shares with his thoughts with the audience. "We are living in an age of ever-widening spiritual divide…but even in the darkest days there is hope," he says. "You are loved. You are valued. You are precious; and life is precious."
So, please, stay with us.