The opinion by the European Parliament's regional development committee suggests there is untapped potential within the framework of post-Brexit relations for places in the UK and EU to cooperate where they share common interests and calls for initiatives such as the Straits Committee to be supported.
Set up three years ago with the support of the British Embassy in Paris, the Straits Committee is a voluntary partnership that links KCC with continental local authorities along the Channel and North Sea.
The members look to work on shared priorities around border fluidity, decarbonisation and young people, learn from each other in addressing climate change and healthy ageing, and encourage local organisations and businesses to bring forward small cross-Channel projects with community benefit.
Earlier this month, KCC welcomed 40 continental politicians and officials from France, Belgium and The Netherlands to Dover for a Committee meeting.
The visit to Kent included a special conference to look at how the cross-Channel area is addressing climate challenges of sea level rise, drought, and flooding. Part of a series of three events to mark the 70th anniversary of the tragic 1953 North Sea flood, the conference saw continental water experts and their peers from Kent exchange good practices and visit recent investments in sustainable urban drainage, and coastal and tidal protection in Thanet and Sandwich.
The guests also had the opportunity to discover Dover and its cross-Channel heritage, receiving a special viewing of the Bronze age boat in Dover Museum, and seeing recent public realm improvements in the town with Dover District Council.
With border fluidity one of the Committee's priorities, visits were arranged to the port and to a Belgian logistics provider, Widem, that had recently expanded in Dover at a site supported by Kent County Council's No Use Empty programme.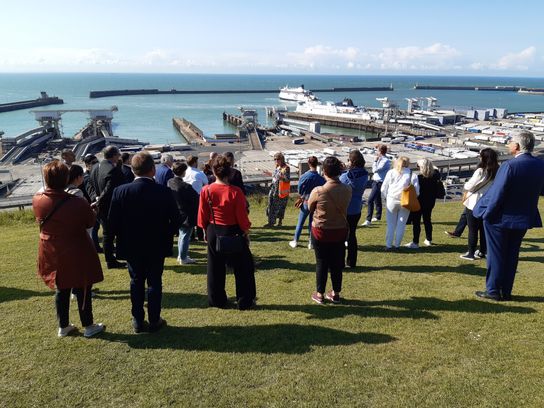 At the port, the continental delegation heard about long-term plans to create the world's first decarbonised high-volume shipping corridor between Dover, Calais, and Dunkirk. They were also briefed on the forthcoming redesign of outbound border controls, a vital project to manage the expected increase in time to cross the border when the EU's future entry exit system enters into force sometime in 2024.
The Committee also took time to review its cross-Channel project scheme, agreeing it will in principle continue in 2024. Since 2021, the Committee has awarded £200,000 to nine cross-Channel projects, allowing 40 organisations to work together on subjects ranging from education, culture and heritage to local food, net zero and social care.
Social care organisations from Kent and the Netherlands told the Committee how the funding had allowed them and Belgian partners to successfully test an innovative Danish fall prevention scheme, opening the door to better services. The Committee was also able to see films of new growing areas in schools created with Straits' funding by students in the winning project of the Committee's 2022 environmental hackathon.
The visit concluded with a special debate on how the Straits can be the place where the UK and continental Europe meet and thrive. Organisations in Kent that are active internationally joined the Committee and shared ideas for new cross-Channel initiatives covering areas such as on customs training, transport, energy, tourism, and agriculture.
KCC Cabinet Member for Economic Development Derek Murphy, said: "The Straits Committee provides us with an informal channel for initiating cross-border discussions, a safe space to work with others to unpick cross-Channel problems and create groups of common interest to share valuable knowledge.
"These two days in Kent have allowed our partners to see how we value our cross-Channel links, and how important it is to keep trade and people flowing smoothly across our border while accelerating our transition towards net zero. We look forward to continuing to support initiatives of tangible benefit to our economies and communities."
Note for editors
The Straits Committee is voluntary partnership between Kent County Council and neighbouring local authorities in France, Belgium, and the Netherlands to provide a framework for cooperation on areas of mutual interest. It was established by the signing of an MOU in Arras in February 2020.
The members are:

The provinces of South Holland and of Zeeland in the Netherlands
The provinces of East Flanders and of West Flanders in Belgium
The departments of Nord and of Pas-de-Calais in France
The county of Essex take part actively in Committee meetings.
The Hauts-de-France Region takes part as an observer.

The member authorities meet up to four times a year at the Straits Executive Committee. Each authority is represented by a Cabinet member. Committee meetings cover external requests for help, joint initiatives between the members and taking decisions on projects submitted to the Committee's small project scheme. Decisions are taken by consensus.
In its 2021 vision statement, the Committee says it wants the Straits to be the place where the UK and continental Europe meets and thrives. The members have agreed to focus initially on economic development and fluidity of trade; climate change and clean growth; and young people. However, any member authority, and any other stakeholders, can approach the Committee at any time with any issue where they believe the Committee could add value. See the vision statement here: A4-Detroit-Grand-public-EN-juin-2022-BD.pdf (straitscommittee.eu)